Return to Palestine By The Freedom Theatre, Jenin
At Angered's Theater, November 6th and 7th, 2018 at 7 PM
Jad, a Palestinian born and raised in the US, decides to travel for the first time to the land of his ancestors. He's curious about his background, and he wants to discover today's Palestine behind the news headlines. We follow his travels and share his experiences as he meets a cross section of the population.

The play is based on stories gathered by the troupe during their annual Freedom Ride, a bus tour during which they create performances based on true accounts told by audience members in refugee camps in Jenin, Dheisheh, Mufaqara and Gaza.

Directed by Micaela Miranda, the play was constructed together with the young ensemble, who are graduates of the three-year acting education at The Freedom Theatre in Jenin. Performing in a strongly physical, frequently comic style, they are accompanied by two musicians as they move in a small, confined stage space – just as crowded as Palestine.

MUSICIANS
Samer Abu Hantash
Nabil Al-Raee
Antonio Serginho (Portugal)

CREATIVE TEAM
Micaela Miranda, Director and Dramaturg
Nabil Al-Raee, Artistic Advisor
Alaa Shehada, Project Coordinator
Ben Rivers, Playback Theatre Tutor
Samer Abu Hantash, Composer

Performance time:
50 minutes, followed by a brief pause and one hour's discussion opportunity.

Language: Arabic, with English subtitles!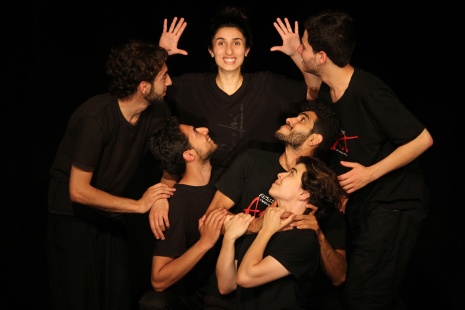 ACTORS
Osama Azzeh/Alaa Shehada/Ahmed Tobasi
Samah Mahmoud/Shahd Samara
Ihab Talahmeh
Amir Abu Al Rob/Adnan Bubli
Raneen Odeh
Ibrahim Moqbel/Motaz Malhees/Nour Dula

The tickets are sold by the ticketmaster here.
Price 80 kr, all money goes directly to the Freedom Theater.
If you want to make an extra contribution to support the Freedom Theater, you should swish the freedom theater's friends on the number: 1231450642